Featured Alumni
On a regular basis throughout the year we will be featuring one of our alumni who will tell us what they have been up to since graduation and provide current Minis with valuable advice and insight.
Victoria McCann - Class of 2013
Featured August 2017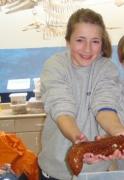 THEN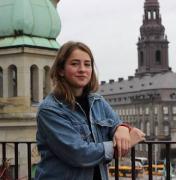 NOW
What have you been doing since graduating from the Mini?
I am currently completing my undergraduate degree at UBC studying genetics and immunology in the Integrated Sciences program after having spent a semester abroad studying in Denmark. Outside of class I have been doing research at a lab at ICORD (International Collaboration on Repair Discoveries) that applies stem cells to wound healing therapies as well as playing lots of ultimate frisbee with the UBC women's squad. I'm not completely sure yet what I'll be doing next, but it will definitely include more school.
What is your favourite Mini memory?
It would have to be my last Orientation at Camp Squeah where my class planned a grad skit that turned the teachers into caricatures of themselves and featured Mr. Procyk singing "Lucy in the Sky with Diamonds", Mr. Hamilton displaying his Japanese roots, and Ms. Dobie rapping in French.
What advice can you give to Mini students while in school and once they have graduated?
Do what excites you and not what you think should excite you. There is too much pressure on students to align with some crazy idea of what makes a person 'successful' and not enough value placed in growing and trying new things. In my experience, you have to just take life as it comes and not forget to enjoy it while you're living it. Do what you love doing and don't be afraid to put yourself out there - the rest will follow.
What have you gotten out of your Mini experience?
Confidence, friendship, and a community. My fellow classmates are some of the most inspiring people I know and are still some of my best friends. The Mini gave me the unique opportunity to surround myself with so many engaging and enthusiastic students and teachers, forming a community that I have still found unmatched since leaving Point Grey. Luckily, the connection that comes with being a Mini doesn't end when you graduate.