Teachers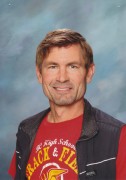 Mr. Skarsgard
Mr. Skarsgard joined Point Grey Mini School's teaching staff in 1989. Graduating from UBC's Bachelor of Physical Education (1988) and Bachelor of Education (1989) programs, Mr. Skarsgard later completed his Master of Human Kinetics in 2003. A P.E., French, and Mini Leadership 12 teacher, he also coaches Point Grey's Cross Country and Track and Field teams, sports in which he also serves as the League Convenor for Vancouver.
An avid runner, at the Boston Marathon in 2006, he was the fastest Masters' runner in the province with a personal best time of 2h38:14.
Following Mr. Procyk's retirement in 2015, he became the Co-Head Teacher of the Mini School, a position he shares with Mr. Hamilton.